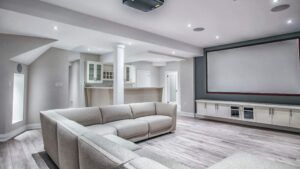 Remodeling a basement is often seen as a difficult task. Basements have a reputation for being cluttered, dark, and cold, which may cause homeowners to divert their focus elsewhere. They may be polished up and renovated to match the rest of the house and add aesthetic appeal and monetary value.
The first step in any basement renovation project should be to settle on a style for the basement's major surfaces (flooring, walls, and ceiling). The ceiling joists from the level above, concrete floors, and concrete walls are typical of an unfinished basement. After the main surfaces are in place, the basement renovation can start just like any other room in the house. Looking at the incredible transformations, other homeowners have made to their basements, you might be inspired to embark on a project of this magnitude.
Basement Remodel Ideas
Put up a fake fireplace for some added heat in your modern home.
Put some chairs behind the sofas if you need more seating.
Modify the area into a workshop.
Use Shiplap on the Walls to Create a Warmer Ambiance.
The implementation of a formal projector screen would work out great.
Use a movie theme to decorate your home.
Remodeling a Basement
When you decide to update your basement, you increase the value of your house and gain more living space. Storage of unused belongings may be possible in an unfinished basement. That area, however, is less practical than in an unfished basement. From preparing the site for the building to the final touches, this article will walk you through the whole process of remodeling a basement.
Step 1: Make a Choice Regarding Its Future Use
Step 2: Create a Spending Plan
Step 3: Clean Your Space
Step 4: Get a Moisture Reading Done
Step 5: You should look into the regulations in your area.
Step 6: Be sure to insulate your cellar.
Step 7: Maintenance of the Plumbing and Electric Systems
Step 8: Construct Extra Walls by Framing Them
Step 9: Paint
Step 10: Establish the Groundwork
Step 11: Mount the Roof or Ceiling
Step 12: Fill in the Blanks
Basement Remodels
Knowing your intended usage of the basement can help guide the renovation process. Your vision for the basement might influence the flooring and color to paint the walls. You should spend some time there to get a feel for it and figure out what you want to do with it.
Open floor plans are great for entertaining guests and might be a selling point if you intend to renovate your house to sell it. Then, the subsequent owners may put it to any use they see fit. If, on the other hand, you see yourself permanently settling in one location, you may choose to design your house accordingly.  Give us a call for a free estimate.