About
Greco Exterior History: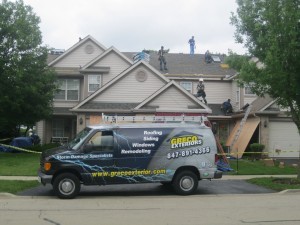 Greco Exterior Improvements, Inc. started strictly as a roofing company. With the support of our customers, we continued to expand our services to Roofing, Siding, Windows, and Remodeling. By listening to our customers, we can identify the need of your concerns and ensure we are fulfilling that need. Building long lasting relationships and winning over our customers has enabled us to succeed.  We always have the mindset our customers come first which creates a greater sense of trust between customer and contractor. This is the reason most of our business is based on referrals from our current and past customers. With continual support of our customers, we will continue to grow and remain here to service all of your construction needs for years to come.
A Closer Look At Greco Exterior:
Family Owned and Managed for 20 Years
Locally Owned for 24 Years
20 Years of Experience With Residential Home Improvements and Additions
20 Years of Experience With General Contractors for New Custom Home Construction
Professional Project Management
State Licensed, Bonded and A+ rated  Company Insured
Top Quality Materials With Proven Durability and Energy Efficiency
Nationally Recognized Suppliers
How We Work:
Greco Exterior Improvements strives to provide the best possible contracting services and consulting. Our honest approach starts from our concept phase. We then assist with designing and planning your project using the materials of your choice. Formulating your estimate and scope of work to be completed is submitted for your review. Finally, we plan and schedule construction of your specific project.