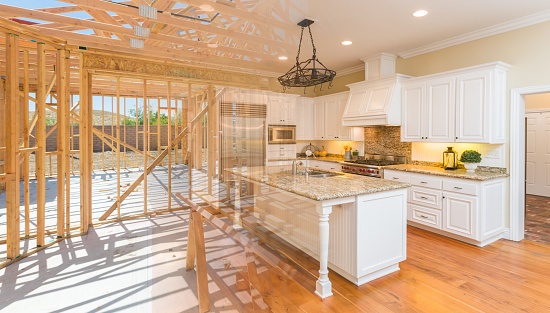 Home Remodeling Services
Home Remodeling services allow you to personalize your home to suit your aesthetics, taste, and other requirements. Remodeling is a great chance to develop a more delightful space that's also more functional and practical.
Home remodeling services also allow you to create additional, functional areas in your home, like a soundproof home theater, a bigger bathroom with better features, etc. Working with home remodeling services can help you narrow down your options and achieve the most significant results while staying within your budget.
Trends in Remodeling
Quartz is increasingly becoming an economical and low-maintenance alternative to our beloved marble when it comes to countertops. There are even new countertop accessories on the market, such as vintage plate hangers for displaying your grandmother's china.
Expect interiors that highlight antimicrobial fixtures and surfaces that resist bacteria and are also easier to clean to be the overall focus in this year's bathroom renovations and beyond.
There's also the shift toward floating vanities. This space-saving storage solution now offers more personalization possibilities than ever, with sinks, faucets, and hardware to suit any style.
Wall-mounted vanities are available in various configurations, ranging from complete units with a sink, countertop, and storage base, like a freestanding vanity minus the legs, to partial sets and completely independent pieces.
 Basements Remodel
In many finished basements, the open design concept is a huge trend. Instead of dividing the basement into distinct rooms, the open concept removes most of the walls. The elimination of the walls essentially creates a more relaxed, shared setting. In addition, open concept design provides you more flexibility when arranging furniture because there are no obstacles.
Basement remodelers might use this trend to integrate entire rooms into one. Monolithic entertainment, dining, and training areas can come together to form a unified space. Larger entertainment items, such as ping pong tables, air hockey tables, and billiards tables, are also suitable with open concept designs.
Workout rooms are an excellent bet for basement remodelers looking to add value to their house, especially as health trends gain traction at a rapid pace. They're also ideal for any fitness expert with an extensive collection of personal training equipment. In addition, individuals who can't visit a private gym may be more motivated to exercise in their basement setup.
Sunrooms Remodel
When you sell your property after adding a sunroom, you'll notice that it attracts more attention than comparable properties that don't have one. By increasing the living area in your home, you increase its overall worth accordingly, often by five to six percent.
One of the most popular sunroom trends is using these areas for functions other than relaxation. Of course, a sunroom is a beautiful area for relaxation, work, and entertainment. Staying in a converted sunroom is a terrific way to stay focused, have a great place that is light and airy, and so much more.
Additions Remodel
Building an addition is like designing a new home without the cost of a new home. Working with the clean canvas that addition-building provides is one of the most exciting and innovative renovation jobs. In addition, homeowners are experimenting with ways to optimize energy usage while maximizing space in their home additions, as many of them have these spaces rented on platforms like Airbnb.
Roofing Remodel
The comeback is so true for metal roofing this year. Metal roofing is an ideal option to improve your property's exterior appeal while also offering structural protection, thanks to its remarkable visual appeal, versatile design, high functionality, and longevity. Of course, metal roofs are more expensive upfront than standard asphalt roofs, but their long-term durability makes the investment worthwhile. Metal roofing has a 50-year life expectancy and needs little to no yearly maintenance.
Siding Remodel
The appearance of your home's exterior determines a significant portion of its worth. The body should reflect the core architectural style. Your home should appear beautiful from the street while the structure protects the interior from the elements. For many homeowners, the exterior must also be sustainable and long-lasting — a complex order when all other aspects of design and construction are considered.
Consider replacing old sidings with some fiber cement to improve the appearance of your home today and in the future.
Fiber cement is a versatile siding option that comes in a wide range of colors and shapes. It is highly durable and low maintenance. Fiber cement, unlike wood or vinyl, will not peel or shatter, and it will not be impacted by moisture or insects, allowing you to go longer between maintenance checks.
Window Remodel
Home remodeling projects are trendier than ever as people attempt to tidy up their frequently used living spaces as the epidemic drives more people indoors. But more than just improving your curb appeal can be accomplished by addressing the state of your doors and windows.
Anodized aluminum windows are attractive because they have a gleaming aluminum appearance and a more distinct color tone than standard aluminum windows. In addition, because no paint is necessary for the technique, the color becomes permanent and does not fade.
Homeowners have also begun installing more expansive windows to allow more natural light into their homes. Taller and larger windows provide a better sense of connection with the outside world with all the extra time indoors. There's also the additional vitamin D from sunlight that can help improve your immunity.
Deck and Porches
Railings aren't merely a functional part of a porch; they add to the home's overall appeal and exterior aesthetics. This year, we recommend sticking to railings with clean lines and a simple design that won't go out of style quickly.
In addition, railings made with classic wrought iron offer a warm, classic touch if you prefer a more traditional route than modern.
You can refresh the look of the railings with decors if you don't want to take the route of heavy construction to modify your porch's design. Any existing railings can be spruced up with foliage, ribbons, and lights.