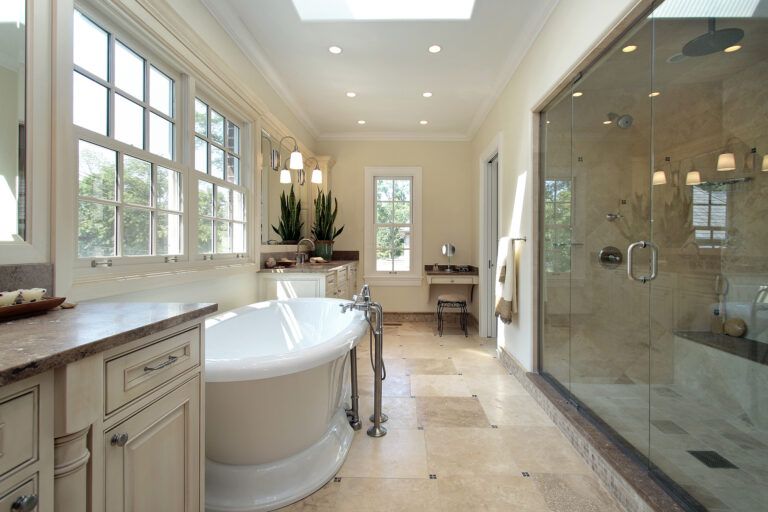 Dos and Don'ts of a Master Bathroom Remodel 
Undertaking a master bathroom remodel is both stressful and exhilarating. However, when done right, this tricky endeavor can pay off enormously. While this status symbol can add value and substantial personal touch to your home, it's a sizable investment – one you cannot afford to make a mistake.
If you're ready to embark on a master bathroom remodel but need help figuring out how to get it right, we're here to help. As you begin your master bathroom remodel plans, here's a some does, and don'ts for your bathroom remodel. 
DO: 
Find bathroom design ideas and inspiration first.
Your renovation is an investment; take the time to plan and map out your remodel to avoid costly mistakes. It would be best to have a firm idea or a clear picture of how you want your bathroom to look before you get started on the physical aspects of the bathroom renovation project.
Research the web for inspiration or check out our bathroom remodeling you are if you are unsure where to start. Remember that you don't have to limit yourself to a particular type of bedroom design. Check different bathroom styles and choose various elements (while keeping your budget in mind) until you arrive at the look-love. Look-love the suitable surfaces.
Bathrooms are excellent breeding grounds for mold and mildew. That's enough reason to choose surfaces that can handle plenty of moisture while contributing to the overall aesthetic. Regarding sinks, walls, and flooring, porcelain tile and materials are favorites among bathroom designers. That is because it is durable and resistant to water, microorganisms, odors, and staining.
Pro tip: choose large tiles to make upkeep easier and minimize grout lines.
Add high-end lighting.
Adding high-end lighting to your bathroom through LED lighting will create a beautiful design and increase your energy efficiency. Besides energy efficiency, you can use LED to light shelves or counters, backlight your wall mirrors, create a color wash effect on your walls, and add color to the water in a sink or tub.
Keep it well-ventilated.
Is mold and mildew growth or moving odor one of the reasons you need a new bathroom? If yes, then poor ventilation could be the culprit. Local building codes require a window, vent, or bathroom fan that requires outside ventilation.
DON'T:
Cut corners on critical items.
We understand you want to save money. However, you should avoid the common mistake of cheapening out on products with the most use and buying quality materials. Don't forget that you're investing in a new space and want it to be efficient and durable.
Forget to add storage.
Bathroom storage is an essential feature of a master bathroom remodel that is appreciated but doesn't get much attention. Whether you want to store first-aid items, linens, extra toiletries, and other bathroom essentials, having bathroom storage on hand when needed is incredibly beneficial.
Include an organization unit that contributes to your overall aesthetic. Consider bumping out a wall to add built-in shelving and an extra storage closet if possible. The extra room will give your bathroom an elegant and polished quality that is well worth the expense and effort.
Cheap out on skilled labor.
Sure, the DIY approach can save you money, but it's best to focus this approach on the uncomplicated and straightforward aspects of the project. Ensure that the professionals working on your project are experienced and highly skilled, so the job is done first and avoids wasting time, money, and resources.
Forget to consider your budget.
Even though you have many ideas in mind and several design elements you'd love to incorporate in your master bathroom, you should always consider your project cost and how much you're willing to spend. Be realistic about your budget. Although this is not always enjoyable to tackle, your budget will give you an idea of the most feasible renovation project to undertake and help in your planning and hiring processes.
If you're looking for a professional home remodeling contractor in Northwest Chicago for your custom and affordable master bathroom remodel needs. Greco Remodeling Services has you covered. Specializing in bathroom renovation, our talented and experienced experts will work within your needs, schedule, budget, and goals to renovate or create a master bathroom that suits your lifestyle and matches your vision.
Transform your bathroom to fit all your wants and needs. A well-designed, spa-like bathroom can help you wind down after the stress of the day. So treat yourself to the bathroom remodel of your dreams.
Ready to get started on your transformation? Contact our experts to get a quote for creating your own bathroom oasis!