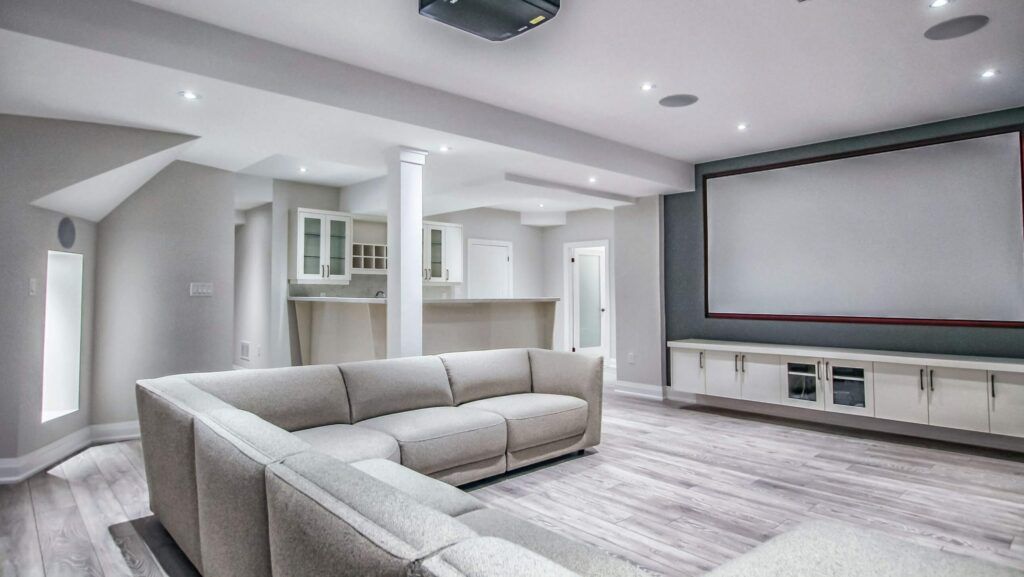 Many experts consider the basement a "bonus space." For Chicagoland homeowners, knowing what to do with this extra space at home means gaining access to endless basement remodeling opportunities. Before beginning with a basement remodel in the Chicagoland Northwest suburbs, it would be best to familiarize yourself with professional basement remodeling ideas in Northwest Chicago.
If you want to maximize storage space, create shelving that runs the length of the basement walls. For example, hang racks from the ceiling to store sporting equipment, such as bikes or hockey sticks, and use containers to store out-of-season apparel and seasonal decorations.
A refurbished basement transformed into an entertainment room with a lounge area, large-screen television, and bar. If you have out-of-town visitors, you might want to explore converting your basement into a guest room with a bathroom, bedroom, and kitchenette. A basement can become the best playroom for small children, or an office, a fitness center, a workstation, or a video game center for your home.
Basements can also be combined to create a basement with two portions. If you want an entertainment area in your finished basement, you might want to leave room for an enclosed office space.
On the other hand, a washing room takes up very little space, leaving room for a workstation, a crafting area, or an entertainment room. A basement contractor Northwest Chicagoland can help you decide how to design your extra space.
The final touches, such as furniture, paint colors, flooring, and lighting fixtures, will make your basement rooms distinctive to your style and budget.
Building a Guest-worthy Basement
Consider installing basement lights along the edge of the space for illumination. Removing old carpet, linoleum, and paneling makes a big difference. Not everything apart and start over during a remodeling a basement in Chicagoland Northwest suburbs. Instead, try making minor changes such as painting the paneling or replacing the linoleum flooring with new tiles.
If you envision your basement as a guest room, you should consider adding a kitchenette, bathroom, and bedroom. A basement can also be converted into a lounge space with a bar or a playroom in a home with children.
Add a drop ceiling to hide ducting or pipes, and consider creating a chamber near the breaker box and furnace to keep them out of sight. Before you start renovating, make sure to solve any issues affecting the basement's condition, such as moisture or a dangerous stairwell.
Creating a Rental Space in the Basement?
If your basement is unfinished, it might be practical to consider turning it into a rental unit. The room will not only be put to good use, but it will also give an additional source of money.
Look into any legal difficulties in your county or state that may influence your capacity to lease or rent out your basement area. In addition, before marketing your basement as a rental unit, you should address any health and safety concerns, such as radon or mold infestation.
When you get the green light to turn your basement into a rental apartment, there are a few cosmetic considerations to make. First, ascertain if the basement is finished and ascertain your flooring, lighting, and bathroom space. In addition, a kitchenette and a washing machine and dryer may be worthwhile upgrades.
You'll need to supply a bed, floor lamp, dresser, and other everyday items if you opt to list the unit as a furnished apartment. Decide how much you can spend on maintenance before advertising the new space.
Fancy a Basement Home Theater?
The most crucial component of building a basement home theater or media room is integrating your style. Whether your basement home theater or media room features a full-size theater or just one giant, flat-screen television doesn't matter.
Maybe you've always been in love with classic movies. If that's the case, a traditional home theater might be proper for you. With stadium-style seating and posters of your favorite Hollywood stars, keep the decor modest. To make it feel like a night at the movies, add fun details like a popcorn machine or a selection of iconic movie treats.
If you prefer a more spartan media room, consider adding a leather sectional sofa and using part of the room as a television viewing area during your basement remodel Chicagoland Northwest. The rest of the space can be a recreational area, a bar, or even a mini office space.
Designing a Basement Wet Bar
A basement bar is a pleasant addition to a remodeled space to entertain family and friends. A basement bar design should represent your unique style.
If you prefer an elegant and classic look, a dark wood bar with a marble or granite countertop and leather-wrapped stools would be right for you. This basement bar option allows you to determine the mood with a lighting arrangement that provides a subtle glow. Wine glasses, crystal, and top-shelf wine and spirits should be displayed on the bar shelving. Choose paint colors that complement the rich design of the bar, like deep purple, ivory, or red.
A wet bar within a game room in the basement is a popular alternative in many homes. Invest in a pool table, poker table, air hockey set, or even classic arcade games to make the bar area more exciting.
Ask your basement contractor Northwest Chicagoland how to install these additional items to the space without sacrificing space or comfort.
Sports-themed wet bars are a popular basement bar idea among guys, even if it is a bit of a stereotype.
Combine it with some sports memorabilia, flat-screen TV, and a lounge area, and you can create a setting where everyone can watch the big game in the fieriest spirit. Budget-friendly glasses, coasters, and fresh paint that match your taste are other design suggestions for basement bars.