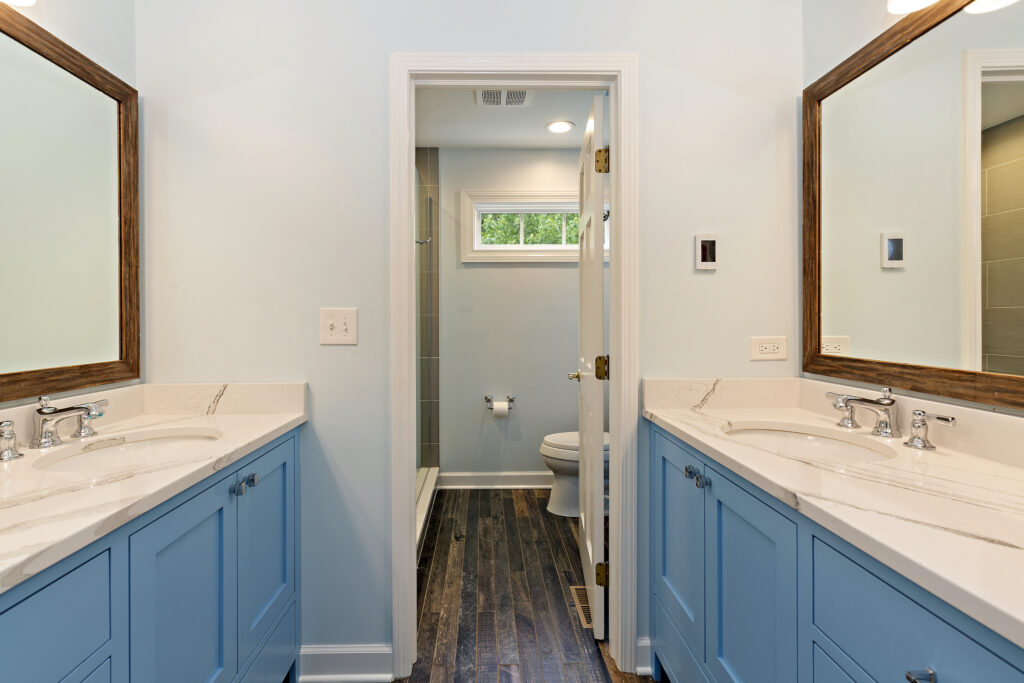 Below is some bathroom remodel ideas and pictures from areas we service in Libertyville, Arlington Heights, Barrington, Cary, Crystal Lake, Geneva IL, Hoffman Estates, Lake Zurich, McHenry, Schaumburg, and St. Charles.
Researching for bathroom remodel ideas?  Think form and functionality. After a long day of putting everyone else first wouldn't a nice steam shower or bath helps wash away life's anxieties. That's one reason your bathroom remodel should be your sanctuary.
You must have the ability to slip inside and ignore the outside world. Yet what happens if your bathroom isn't the spa-like sanctuary you desire it to be? Then maybe that's where a bathroom remodels deserves some more research.
With a makeover, you can tailor your room to your specific demands and specifications. Add the functions, design, and gadgets that will certainly aid in your relaxation.
Seem like a dream? Start with these stylish modern-day bathroom ideas!
Bathroom Remodel Libertyville | GO WITH STATEMENT FLOOR COVERING
If you genuinely wish to make an impact, why not start with some decoration flooring? Floorings are typically ignored when it comes to a design. That's why they provide a unique opportunity for a design feature.
Try going all out with floor tile in a strong pattern or bright color. Geometric forms like hexagons can add a distinctive element. Also, intense colors like green or blue are usually unexpected for ubiquitous flooring.
However, if all-out bold isn't your style and you still want a statement, try big tile or a wood-grain ceramic tile. Try establishing it in a herringbone pattern to add a little movement.
Don't be afraid to blend and match forms, colors, and patterns to develop a layout that talks with you.
Bathroom Remodel Arlington Heights | YOU'LL LOVE A DOUBLE VANITY
One thing all bathrooms need is an extra room. This is specifically real when it involves vanity.
Every bathroom could use a little extra getting ready area. To enlarge your vanity to hold two sinks and give you some additional room. It's a great place for extra privacy to get dressed.
An enormous vanity will give you more room listed below. Enhanced storage space is always a good idea. You can use the double vanity to shop for cleaning supplies, towels, or your toiletries.
Bathroom Remodel Barrington | ENLARGE YOUR SHOWER
What's one function that all the designer bathrooms on the web pages of the residence magazines have? A large, stunning shower that's the focal point of the area. If you want a fantastic bath transformation, then expand your battery.
Create an oversized walk-in shower that is assigned helping help your retreat. Glass doors and shower walls in adding faces aid add a ventilated feeling to your bathroom remodel. Glass is excellent since it fits well right into a lot of contemporary designs.
A large shower is additionally a terrific possibility to get playful with tile. Take into consideration including a pattern or a little shade to make the shower design remodelers. Bathroom remodel professionals can aid you in finding the right ceramic tile for any style.
And don't forget all the shower devices. Update your components to streamlined new ones. Tailor your shower experience with a showerhead, wall jets, or a handheld tap.
Bathroom Remodel Cary | ADD A PATTERN
Your bathroom remodel idea is where you can get innovative and roam away from the standard home design. Why not seize the opportunity to do something different that you wouldn't do anywhere else in your house?
Experiment with patterns throughout the bathroom to develop a trendy style that stands apart from the typical design. You can include decor floorings with ceramic tiles in virtually every part of your bathroom. However just around decor walls or a statement counter?
A pop like this will undoubtedly aid break away from the conventional style of bathroom.
Bathroom Remodel McHenry | DON'T CONCERN WALLPAPER
The idea of it makes many properties owners tremble. Yet this isn't like the wallpaper in your grandparent's houses. Several modern wallpapers feature upgraded designs and easy installations to produce a few of the most stylish bathrooms you've ever seen.
If you're a minimalist, there are fantastic sleek and basic layouts that include shade or print. Or for a maximalist look with something big, bold, or intense.
You might also think about adding wallpaper with details like appearance or metallics. Choose an attribute with wallpaper on one wall or envelope the whole room in a strong print.
The best wallpaper could be the style edge your bathroom has been missing.
Bathroom Remodel Crystal Lake | DO SOMETHING NEW
This is your chance to step out of your comfort area. And below is full permission to try something new that you could not see in a bathroom.
Believing outside the box is what interior decoration is all about, and it typically produces the very best results. The opportunities are limitless, but right here are a few you might intend to attempt.
How about curved doorways throughout the bathroom?
Or try a floating vanity as opposed to the standard style. If you like a light and visual openness. Include LED lights below to provide the bathroom a soft radiance.
Attempt mixing styles into something brand-new. This is specifically terrific if you, as well as your companion, cannot settle on one design. Draw aspects from your favorites and incorporate them right into a seamless layout that's distinct to you.
Bathroom Remodel Geneva IL | TAKE IN A BIG TUB
Let's be honest; your desired bathroom remodel ideal most likely has a big bathtub for you to soak and relax in at the end of the day. If that's one function you need to have in your dream bathroom, then prioritize that.
Select a large soaker bathtub that can take the spotlight in the layout. Be sure to take into consideration the shape of the bathtub as well as the size. You do not want any components hanging over the side when you're trying to relax.
You might wish to put it up against a home window so you can absorb an excellent view while you unwind. Or possibly you want it to be essentially front and facility in the middle of the area.
Make sure you pick a spectacular bathtub for your master bathroom remodel. The timeless clawfoot style includes a little added touch to modern-day designs.
Numerous contemporary bathtubs can be found in various colors so that you can add a customized touch to your tub.
Bathroom Remodel Hoffman Estates | DON'T FAIL TO REMEMBER STORAGE
When designing your bathroom always remember storage. Especially in a small bathroom remodel.
When your remodeling, you intend to have more storage than your older bathroom. Just be sure to add storage right into the layout.
It's simple to forget it when you're focused on floor tile examples and altering the layout. Yet you'll be appreciative when you go to do away with towels or additional toiletries.
Consider adding a linen closet where you can keep tidy towels, clean cloths, soaps, and hair shampoos. You might additionally desire hanging shelves to keep your day-to-day things close.
Include storage space in your shower for soaps and hair shampoos. You'll never regret having excess storage in your bathroom. Your washroom remodeling service providers can aid you in locating great locations to put added storage space.
Bathroom Remodel Lake Zurich | CHOOSE UNIQUE FIXTURES
There are so many styles for the finishing touch for your bathroom needs. When it pertains to your faucets and a showerhead, don't be afraid to take an advance with style.
Try choosing unique forms like something more angular, a geometric level design, or something with an antique touch. Stepping far from the standard faucets makes your bathroom feel tailor-made.
You can add a unique touch to the components by having fun with the coating, rather than the standard silvan intense, a strong gold, streamlined black, or a distinct copper.
You can likewise play around with the component surface. Shiny metallics have constantly remained in design. However, matte and level designs are acquiring appeal.
Bathroom Remodel Schaumburg | INCLUDE SOME TECHNOLOGY
They always claim that electronic devices and water do not mix. And while that might be real, that doesn't mean you should not include some technology right into your bathroom.
You don't need a robot butler to offer you a towel at the door– unless you desire one. But how about integrated audio speakers so you can enjoy your shower to your favorite relaxing music.
Or maybe you would enjoy an intelligent shower or toilet. A wise shower can warm the water to your wanted temperature before jumping in.
Include heated floors, so your feet do not obtain a shock marching on a cold ceramic tile floor. Warming drawers can keep towels, bathrobes, and jammies nice and cozy to assist in your relaxation.
You may like a mirror that gives the weather forecast and website traffic upright. Smart lighting changes for different settings, so your makeup always appears ideal.
And, for the leading leisure, include a refrigerator so you can take pleasure in a chilly drink after a workout.
Bathroom Remodel St. Charles | HOW ABOUT A WATER ATTRIBUTE?
Naturally, water is an essential facet of your washroom. Without it, how would you bath, wash, as well as prepare? But the water in your bathroom doesn't always need to be for an energy objective.
Consider including a water attribute to produce a stunning detail to the area. A water wall features a soothing fall down a stone exterior. A gentle, cascading waterfall feature would undoubtedly add relaxation.
The audio of dropping dripping helps aid your relaxation as you lay back and take a break from the day.
And, if you desire a water function consider filling your bathtub with a waterfall which is pretty cost-effective.
LIGHTS IS EVERY LITTLE THING
The trick to excellent interior design isn't constantly choosing the right pieces as well as color patterns. The real secret is getting the lighting right. A well-designed room always ideal eat lights.
Which's no different in the bathroom. The secret to obtaining the illumination just right is to believe in layers. Your layers of lighting stand for all things you would perform in your bathroom.
You will want job lights around your vanity for when you're applying makeup or doing your hair. Overhead lights enable you to see the entire room for larger jobs.
Ambient lights will create a soothing environment for a bath or shower. You should have natural lighting to make the space feel more prominent as well as brighter.
IT'S ALL IN THE DETAILS
Completing a remodel can be a fun and fantastic procedure. There are many decisions to make that are more significant. The more prominent elements take control of minor details to produce the fashionable accents that draw the room together.
Bring out your style in the lighting fixtures, floor tiles, as well as style. Do not forget to use design pieces like an attractive accent, pop of shade, or a little bit of structure. Even collaborating your towels and bathmats can go a long way in layout.
PRODUCE YOUR VERY OWN OASIS WITH BATHROOM REMODEL
You can't always head to a health facility for therapy after a long, difficult week. However, you can build your oasis in your master bathroom.  I hope these bathroom remodel ideas helped.
Why wait? Get a quote today and see what a professional remodeling company can do for you!